Viloria.com
presents...
Lanao Travelogue 2006
Text and Photos Copyright © 2006 by
Angelica Viloria
. All Rights Reserved.
»
Send Your Comments Via Email
01.28: Trip to Lanao del Norte
"Lanao del Norte is known as the Land of Beauty and Bounty. It is located in Northern Mindanao along the Northwest and Southwest Coasts of the island. Its capital is Tubod."
01.29: Lanao del Norte Trip: Car For Hire
"If you are looking for a car and driver to hire in Cagayan de Oro to bring you to Lanao del Norte or elsewhere, you may want contact Ms. Gloria Corrales (Vinco Rent a Car) at +639264971015. We got in touch with her when we were still in Manila and she responds quickly via text or SMS."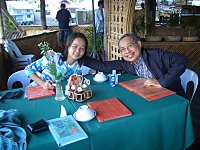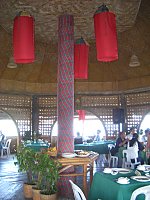 01.30: Where to Dine on the Way to Lanao del Norte
"We asked Gloria Corrales where we could have lunch on the way to Lanao del Norte. She suggested Tabing Dagat (Seaside) Restaurant located at Poblacion Opol, Misamis Oriental."



02.05: Where to Stay in Lanao del Norte: Mindanao Civic Center
"We stayed at the Mindanao Civic Center located in Tubod (this is the capital of the province), Lanao del Norte. Friendly staff at the hotel say that the hotel has been operating for a few years and that its sports facilities (stadium, gym, oval, swimming pool) were used for the Palarong Pambansa in 2003."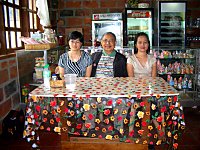 02.06: Dining in Lanao del Norte: Bebeth's Casserole
"Bebeth's Casserole is a few minutes' drive from Mindanao Civic Center, going in the direction of Baroy, the town that comes after Tubod. It is a small place, an eatery cum bake shop -- quite warm (as in mainit) for a food establishment actually."

02.08: Breakfast in Lanao del Norte
"There is a canteen called Rianna's near the Philippine Science High School which is a short walk from the Mindanao Civic Center. They serve breakfast, however, only until 7am."



02.11: Sweet Mangoes in Lanao del Norte
"While in Lanao del Norte, we tasted the sweetest mangoes. It comes from a place known as Tangub."

02.12: Pasalubong Shopping On Way Home from Lanao del Norte
"We were told to drop by Cheding's Peanuts which is located at 25-A Sabayle St., Iligan City."

02.14: Waiting to Get Home from Lanao del Norte: Pryce Plaza in Cagayan de Oro
"We were set to go back to Manila on the first morning flight so we spent the night before in Cagayan de Oro already. We stayed at the Pryce Plaza Hotel which charges P2,900 per night for a standard room."

02.20: Lanao del Norte Tour Packages
"We got hold of some tour packages that you may want to consider should you find yourself in Lanao del Norte. You may want to visit Tinago Falls, located in Linamon, Lanao del Norte."