Viloria.com
presents...
Bohol Travelogue 2006
Text and Photos Copyright © 2006 by
Angelica Viloria
.
Other photos Copyright © 2006 by
Manuel Viloria
. All Rights Reserved.
»
Send Your Comments Via Email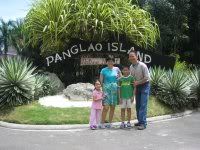 Bohol
(March 28, 2006)
We are back! From March 25-28, we were at Panglao Island Nature Resort in Bohol for the Viloria Vacation 2006.
Panglao Island Nature Resort: Reservations and Accommodations
(March 29, 2006)
I have long read about Panglao Island Nature Resort in newspaper features and all these years, I have made a mental note to visit it one day. About two years ago, after we had visited Alona Palm Beach Resort (also in Bohol), I talked to a friend who had been to Panglao Island Nature Resort and she was very happy with the facilities and the service (as I also was with Alona Palm.)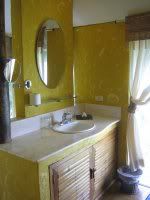 Panglao Island Nature Resort: Facilities and Activities
(April 3, 2006)
As soon as you get to Panglao Island Nature Resort, the staff will provide you with a list of resort activities. Activities range from kayaking, wind surfing, boating -- all with corresponding fees.
Panglao Island Nature Resort: Food and Service
(April 8, 2006)
Packages at Panglao Island Nature Resort come with buffet breakfasts and dinners, particularly if resort occupancy is high. We arrived in Bohol on a Saturday morning and since we were in no mood to go around before we could fix our stuff, we decided to have lunch at the resort as well.
Bohol Bee Farm
(April 9, 2006)
Bohol Bee Farm promotes organic farming. All the vegetables served in their restaurant -- they grow themselves. When we were going around, we saw the plots where they had planted things like lettuce, parsley, cilantro, etc. Since that was a bee farm, we were of course there to see the bees.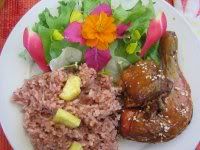 Bohol Bee Farm: Our Meal and Meeting the Bee Lady
(April 13, 2006)
We had an early lunch at the Bee Farm and it was good and reasonably priced too. The servings were quite generous and the surroundings made the meal so relaxing and more enjoyable. Just imagine having a meal while hearing the waves splashing wildly all throughout. When we got there and before we left, we made it a point to meet Vicky Wallace and she graciously posed for some photos with us.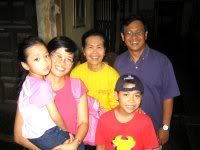 The Loboc Children's Choir
(April 13, 2006)
The Loboc Church has been proclaimed as a national historical landmark. It is about 45 minutes from the Bohol Bee Farm.
Car Rental and Travel Agency in Bohol
(April 16, 2006)
If you are looking to rent a car (with driver) in Bohol, you may want to get in touch with Bohol Travel & Tours, Inc. We have used them twice -- in 2004 (for a tour -- arranged through Alona Palm) and in 2006 (for car rental with driver -- we had gotten their card in 2004).
Cambagat Cave
(April 16, 2006)
The Cambagat Cave is a 5-minute walk away from the Panglao Island Nature Resort lobby and is located inside the resort itself. You can request any of the resort staff to accompany you there -- from about 8am to 6pm, if I remember correctly.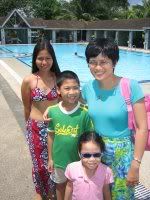 Miravilla Seafood Restaurant and Miravilla Resort
(April 22, 2006)
It's your typical seafood restaurant (something like Seafood Wharf here in Roxas Boulevard) where you can choose and weigh your ingredients (mostly seafood, of course) and then the staff will suggest ways to cook your food.