Philippine Astronomy, Planetarium
You've probably checked out Angel's entries about the Philippine Planetarium (Seeing Stars, Planetarium Details), and I'm making this other entry just so that I can post this photo of the Philippine flag atop the roof of the Planetarium.

[an error occurred while processing this directive]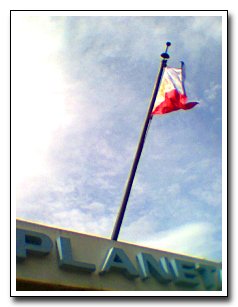 And of course to provide more links related to Philippine Astronomy:
The Philippine Astronomical Society
They meet EVERY third Sunday of EVERY month. Even if it's Christmas. Rain or Shine. Er... what if the streets are flooded? :-)
9/9/2003 Update: The Philippine Astronomical Society web site has found a new home!
Astro Webcam Philippines
See images of solar eclipses and other astronomical events taken using his videocam.
Heavens Above -- Manila
See the position of the International Space Station (ISS) as it orbits the earth. The aim of the Heavens Above site "is to provide you with all the information you need to observe satellites such as the International Space Station and the Space Shuttle, spectacular events such as the dazzlingly bright flares from Iridium satellites as well as a wealth of other spaceflight and astronomical information."
The ISS looks like a spaceship, and will make several eye-catching passes over North America. Sometimes, it may be visible from the Philippines in the early evening. I just hope there's not too much light pollution, but given the Government's plan to light up parts of the country (indirectly done as some kind of birth control method), we'll probably just have to squint more.


[ First posted on 08/15/2002 by Manuel Viloria ]
Do you LIKE this page? Please let us know, and we will publish more of the content that YOU want. Salamat po!
Panuorin Mo Ito...
Visit SupremeWealthAlliance.net ~ Kumita sa Internet, Kahit Super-BUSY Ka
Get In Touch With Manuel Today
Manuel@Viloria.net
Previous Entry
Next Entry