Yerba Buena Gardens
Yerba Buena is an art and entertainment complex occupying an entire block between 3rd and 4th streets in San Francisco. After visiting the San Francisco Museum of Modern Art, we moved on to Yerba Buena Gardens where we leisurely strolled throughout the afternoon.
The atmosphere at Yerba Buena is quite relaxing -- with its open spaces and greenery all around. In fact, it's not unusual to see people sitting all over the grounds (on the grass), either reading, eating, sleeping, or just plain being.
There are fountains, waterfalls, and gardens in the area. There's a memorial to Martin Luther King. You'll find a bowling area, a skating rink, and a playground where kids can enjoy playing in the sand or just going on the tube or open slides.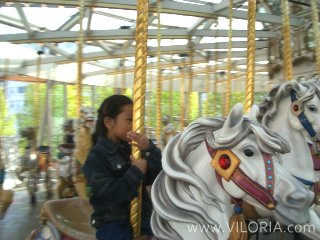 There's also a huge 1906 carousel that kids can enjoy. Ali, my daughter likes carousels. She went on it at Discovery Kingdom, at Yerba Buena Gardens, and at Pier 39 too. The only carousel she didn't try was the one at Disneyland and that's because we decided that the line was too long and it wasn't worth the wait.

The carousel at Yerba Buena costs USD 3 for 2 rides. On the day we were there, she had the carousel all to herself so we can proudly say that we reserved the whole thing for her for a measly USD 3. =) The friendly operator was very entertaining -- he would juggle all throughout and as he starts to operate the carousel, he would ask Ali if she wanted it slow or fast. He would then pretend to blow on the carousel to get it started.

We were in the area on a Monday and too bad, one of its more popular features, the Zeum, was closed on Mondays. Well, we had known beforehand that it would be closed so it was not really a disappointment. The Zeum is an interactive, hands-on museum, whose tag line is "What will you create?" Kids can visit it and expect to do their own clay animation, digital arts, or music video. Anyway, at least we have a reason to return next time.

Yerba Buena also features the Metreon, another entertainment complex where they have IMAX theaters and video game arcades. We checked it out and actually had lunch at the Metreon at Long Life Noodles. Ali liked the Phad Thai noodles while we all liked the beef with broccoli which turned out to be very tender and tasty.

At the Metreon, they also had the Reactrix where kids can play with a motion-sensitive image on the floor. I thought they would get stuck there forever!

We also saw an interesting bookstore with nice books, cards, and paper products at the Metreon. Didn't get to buy anything though.

For more details on the above places, you can visit www.yerbabuenagardens.com and www.zeum.org

[By Angelica Viloria | Friday, June 15, 2007]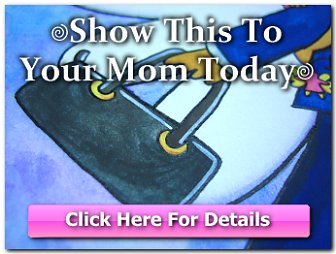 Copyright © 2001-2015 by Angelica Bautista Viloria. All Rights Reserved.


Previous entry: "San Francisco Museum of Modern Art (SFMOMA)"
Next entry: "Happy Father's Day!"