Six Flags Discovery Kingdom
This was my son Adi's favorite place in the US. We went to Six Flags Discovery Kingdom in Vallejo, California with my brother and his kids.
Six Flags Discovery Kingdom used to be known as Marine World Africa USA in my youth but since Six Flags acquired it, it has turned into a theme park with roller coaster rides, coupled with animal encounters and shows.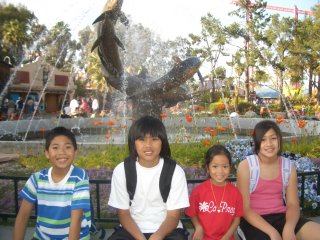 Since we were vacationing during "off season" in the US (supposed to be), the park was only open from Fridays to Sundays. We went on a Saturday and there were lots of people. (Quotable quote from my brother: "Naku, ang daming tao. Sa kotse na lang ako. Allergic ako sa madaming tao." -- "There are so many people. I'll just stay in the car. I'm allergic to huge crowds.")
Of course, he didn't just stay in the car but all throughout the day, we had to go through long lines to get food, to go on the rides, etc. As we have learned from our Disneyland experience, there is no "off season" when it comes to theme parks.
What did we do at Discovery Kingdom? We went to Merlin's Island party to watch the dolphins perform. If you want to get wet by the dolphins, you should stay in the first few rows which they call the "splash zone." We also watched the Spirit of Shouka (the killer whale) although the tricks of Shouka were not that varied. I guess once you've seen a whale and dolphin show, they all start to look alike.
Our group split up into two about mid-day -- with the older kids (including my son Adi) going with my brother and Manuel and I staying with Ali. Having a huge age gap between your kids is not very advantageous when it comes to visiting theme parks. Chances are their interests will be very different from each other and they may not be able to go on the same rides.
For my daughter Ali, we did the kiddie rides. She went on the Carousel, the Road Runner Express (a super small roller coaster which surprisingly had very jerky turns), Foghorn's Seaport Railway (a small train ride), Daffy's Deep Sea Dive, Taz's Typhoon (a mini version of flying chairs) and we also watched the Looney Tunes Talent Show. Ali also had her photos taken with the Looney Tunes characters.
Adi, on the other hand, went to ride the Medusa twice with his cousins. The Medusa is a big roller coaster ride with several loops and turns and this was Adi's favorite. He also went on Monsoon Falls (a water ride) and the Wave Swinger (flying chairs). They had wanted to go on other roller coaster rides like Kong and Roar but the lines were too long and these young people were not particularly patient. =)
Our groups met up after awhile and we all rode the Cobra (a small roller coaster ride) which Ali enjoyed so much. We went around the park some more and the kids went to the touch pool where you could touch the stingrays.
Food in the theme park, as usual, was expensive, with a bottle of water costing as much as USD 3.50 and was even more expensive than the carbonated drinks. Expect to spend about USD 8 for a burger meal. Well, at least they had Ben & Jerry's ice cream inside the park.
It was a tiring day and am sure the kids had lots of fun. Thanks to Tito Mandy and kids for spending that Saturday with us.
To find out more about this theme park, you can visit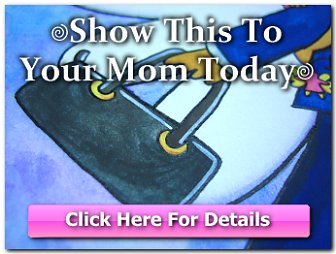 Copyright © 2001-2015 by Angelica Bautista Viloria. All Rights Reserved.


Previous entry: "17-Mile Drive and Carmel Tour"
Next entry: "Philippine Fashion by Rene Salud"