Cold Stone Ice Cream
On this trip, we finally got to try Cold Stone Ice Cream. After our Chinese food dinner (which we described in our previous entry), we moved on to the next store which was Cold Stone.
Its set-up is quite similar to Cold Rock which we have here in Manila. You can choose your ice cream, your mix-ins or toppings, and then they put it all together atop their frozen granite stone. You can make your own combination or choose any of their original concoctions.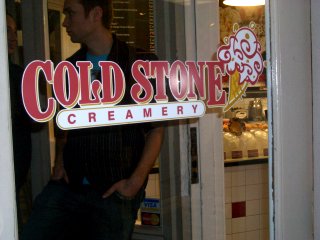 Prior to this trip of ours, my father told us that my nephews and nieces liked Cold Stone Ice Cream. We hadn't heard about Cold Stone then -- so we said: "You must mean Cold Rock." My father, who was also unsure of the name, agreed and said -- "Cold Rock nga ata." After that conversation, I did a search on the internet and found out that there is such a brand as Cold Stone. My father's memory was accurate. =) I wonder, is there something like Cold Pebble, elsewhere?

The individual servings at Cold Stone Ice Cream are called: Like It; Love It; and Gotta Have It -- that's in ascending order in terms of size. I tried their mint mint choco choco chip (which is a Cold Stone Original or their own concoction). It was not as minty or as sweet as the Ben & Jerry's version which I like better as it is more flavorful. The chewy browny bits, though, in the Cold Stone version were very welcome. We likewise noticed that the Cold Stone Ice Cream was softer in texture (it looked more melted) than Ben & Jerry's.

We spent about USD 20 for about 4 servings of ice cream. The Like It size is generous enough for me. Now that it's very hot in Manila, I sometimes think it would be ideal to be able to enjoy Ben & Jerry's or Cold Stone over here. I did a search on the web again and found out that here in Asia, Cold Stone is only available in Japan and Korea. They are looking though for Master licensees here in the Philippines! Do any of the big businessmen out there want to bring Cold Stone into the Philippines? Are you ready with your USD 5 million investment?

To learn more about Cold Stone, you may want to visit their website, www.coldstonecreamery.com and if you are interested to bring the Cold Stone brand into the Philippines, you may want to read the details here.

[By Angelica Viloria | Thursday, May 24, 2007]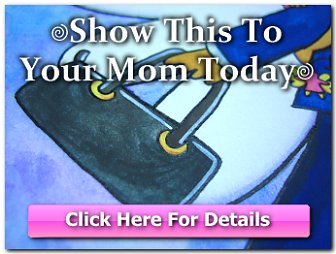 Copyright © 2001-2015 by Angelica Bautista Viloria. All Rights Reserved.


Previous entry: "Oriental Seafood Noodle House at Irvine, California"
Next entry: "More Than Gifts: For Unique and Personalized Gifts"