Viloria.com
presents...
Singapore 2005 Travelogue
Text and Photos Copyright © 2005 by
Angelica Viloria
. All Rights Reserved.
»
Send Your Comments Via Email
Music Video: Singapore - KL Trip
Here are notes about the music video plus a link to the actual online video. Perhaps you can also turn your family trips into videos that you can share on the web.
Kids on Vacation
(May 10, 2005)
Our kids recently came from their vacation in Singapore and Kuala Lumpur from May 2 to 7. Nope, they didn't go by themselves but the hubby and I weren't on vacation. We were around largely to take care of our kids' food, purchases, and whatever else they needed. As my friend said: "It's really their holiday."
Singapore Trip: PAL Flight Delayed
(May 11, 2005)
Am all for supporting our flag carrier, Philippine Airlines, everytime I can. When your flight, however, PR 501 to Singapore, in our case, is delayed first by an hour and then by 3 hours, you begin to think about Jet Asia and the other airlines.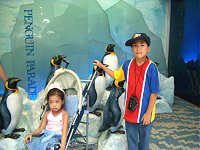 Singapore Trip: Visit to Jurong Bird Park
(May 12, 2005)
Allot a whole day for this attraction, particularly when with small kids. The Bird Park is huge and since you really can't hurry kids when going from one section to the next, giving yourself more time for the park will allow you to enjoy the birds better.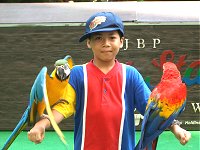 Singapore Trip: Dinner at Red House Seafood -- East Coast Park
(May 13, 2005)
One of the meals I enjoyed (never mind if I had Ali on my lap and had to feed her too) was dinner at Red House Sea Food at East Coast Park in Singapore.
Singapore Trip: Night Safari
(May 16, 2005)
The Night Safari is open from 7:30pm till midnight and you can come in anytime you wish during that time. There is no set schedule that you have to follow. It is up to you how long you wish to stay, whether you want to go on the walking trails, or whether you want to take the tram ride.
Singapore Trip: Moving on to Kuala Lumpur
(May 17, 2005)
We enjoyed our brief stay in Singapore and will probably be back to visit my brother and his family again in the next few years. The kids look forward to playing with Max, the maltese again even as I think Max got pretty tired with Adi asking him to fetch the ball several times.