Disneyland Anaheim Tour
Into each life, some rain must fall and it had to be on the day that we were off to Disneyland. =) Tough luck, right?
But as I have learned from all the years that have passed by, you just go with the flow of the raindrops. Haha.
On the day that we set out to go to Disneyland Anaheim, it rained. Not just some drizzle -- but it really rained. We then spent the longer part of the day stuck in our hotel room. By mid-afternoon, the rain stopped, and we decided to make a go of it.
You'd think that with the rains, the park would have less people, right? Wrong. We got to Disneyline (oh, I'm sorry, I meant Disneyland) at about 4pm that day and some of the popular rides (e.g. Space Mountain, Autopia, and Matterhorn) had super long lines that we decided to skip them. What did we get to do on our first day?
1. Buzz Light Year Astro Blaster - After a 10 minute (that's the exception more than the rule) wait, the four of us boarded slow-moving space ships that could turn and rotate. On this attraction, you are supposed to shoot the Z's as you battle Emperor Zurg with your lasers. At the end of the ride, based on your score, you will be classified as a space ace, a planetary pilot, etc. Ali, my 5-year old daughter, just kept pulling the trigger without really aiming and got a pretty high score.
2. Disney Princess Royal Walk - Here you go through a pathway where you will meet the Disney Princess characters. Ali met Snow White, Prince Charming, and Belle. She had her picture taken with them and asked the characters for their autographs. The Walk leads to a stage where there is a show mounted by the Disney Princesses. We managed to catch the tail-end and saw Cinderella, Princess Aurora, and Jasmine.
3. It's A Small World - This is an old favorite from my childhood days and my daughter enjoyed it as well. The figures, though, look much smaller to me now.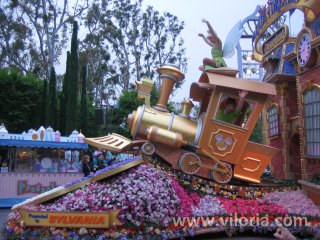 4. Parade of Dreams - This started at 6:30pm and features most of the Disney characters like Winnie the Pooh, the Disney Princesses in colorful floats and carriages. The area near It's a Small World is a good place to find a spot to see the parade. While watching the parade though, it started to rain again, so it literally rained on our parade. Armed with our jackets with hoods, we watched the parade while getting wet in the rain. Good thing none of us got sick after.
5. Remember...Dreams Come True Fireworks Spectacular - This started at 9:25pm. Because of the rains, we were wondering earlier in the day if this would push through. Staff at the Disney desk at our hotel said that the fireworks usually push through, as scheduled, weather permitting. Since a lot of people schedule their visit to Disneyland to see the fireworks, the Disney desk people reiterated that the decision of whether to push through with the fireworks or not is done at the last minute, say 9:15pm. It is always the desire of people at Disneyland to do the fireworks for as long as it is possible.
We were not disappointed. Despite the rains, the fireworks pushed through. We were told to get as close to the castle as possible so we can fully enjoy the fireworks. We were in the area about an hour before the fireworks were set to begin but we could no longer find a place to sit.
Given that, we just had to stand and wait for the show to begin. At 9:25pm, the lights dimmed, and we were treated to fireworks of varying colors, patterns, and brightness. I expected more color though. Still, it is a spectacle worth watching if only for the lights, the music, the narration, and for the over-all feeling of wonder that you get as you stand there. As a child, I had been to Disneyland with my parents, on two separate trips. Each time, though, we would go home before nighttime, so I never got the chance to see the fireworks or any of the parades then.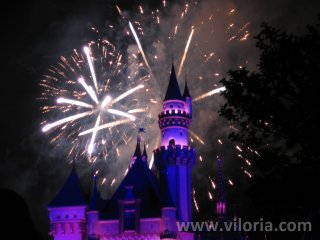 Since we didn't find a place to sit, I carried Ali all throughout (was it 15 or 30 minutes?) so she could appreciate the fireworks. Going back to the hotel, after, Ali fell asleep so her dad had to carry her all the way to the shuttle.

Prior to the fireworks show, we had a quick dinner at the Village House Restaurant where we had burgers, pizza, and salad. Ali chose chicken breast tenders and baby carrots and this meal came with a drink. The chicken tenders were crunchy and tasty although if you would do some converting from US dollars to Philippine pesos, they should really taste good. The pepperoni pizza was alright although for the price of a personal pizza in Disneyland, I could get a super large pizza in Manila. We ended up spending about USD 30 for the four of us for just one fastfood meal. Talk about theme park food being expensive.

Up next: What we did on our second day in Disneyland

[By Angelica Viloria | Thursday, May 17, 2007]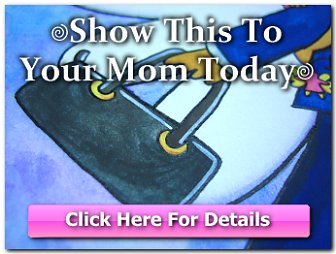 Copyright © 2001-2015 by Angelica Bautista Viloria. All Rights Reserved.


Previous entry: "Anaheim Resort Transit"
Next entry: "Disneyland Anaheim Vacation"