Coffee: Philippine Mountain Coffee Collection
The first thing that caught our eye as we passed by this coffee kiosk were their pan de sal (a locally made bread which translates to bread made of salt) offerings. They had everything my dad liked, from Chinese ham (hok shiu) – which Manuel searched for endlessly in Hong Kong to Hamon de Punda – which I searched for endlessly in Bukidnon.

We decided to take a closer look at the products and saw some interesting coffee blends in very attractive packaging. They had four different kinds of Philippine coffee that you could brew yourself.
These are:
Tagaytay Baraco and Kalinga Gold (from Luzon);
Kanlaon Blend (from the Visayas); and
Malaybalay Blend (from Bukidnon in Mindanao).
They make for perfect gifts this Christmas: for locally-based friends and relatives, balikbayans, and even for foreigners. As the owner Mr. Antonio Sevilla says, drinking coffee is a universal thing.

Standard drip coffee makers



Attractive coffee sampler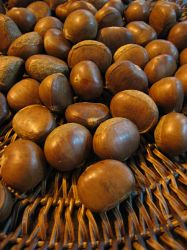 Yummy and greaseless Mandarin chestnuts or castañas
P100/500 grams
Photos by: Manuel Viloria




The packaging, by the way, is vacuum-sealed so for as long as it is unopened, it will last for a long time. Once opened, it won't take too long to consume as they come in 150 gram packages.

There is also a Christmas gift pack which offers a sampler of the different coffee flavors. Mr. Sevilla says that his packaging is quite sturdy that he actually mailed a package to his son in the United States. His son got the package (with the coffee intact of course) – safe and sound.

If you order a pan de sal sandwich with coffee, you get a free refill. We tried the Hamon de Punda (very good and tasty!) and the Quesong Puti with Olive Oil, ordered the Malaybalay Blend, and got a cup of Kanlaon as our free refill.

I really do not take coffee so I settled for the Malaybalay Blend which they say is the mildest. Manuel took the Kanlaon Brew which he describes as "smooth and light with pleasant smokey top notes".

We are excited to go back to try out the other goodies like the Pan de Sal with Guava Jam and Cream Cheese, the Chocolate E with carabao's Milk and which is sugar free, and the Grilled Ensaymada, also with Guava Jam and Cream Cheese.

All the products offered in the kiosk are personally prepared by the owner, Mr. Sevilla and are products which he says he enjoys with his family.

Product offerings are reasonably priced. An 8 ounce cup, for example, costs P30 while a 12 ounce cup costs P40.

Aside from coffee and the pan de sals, he also offers Mandarin Chestnuts which are pre-roasted and vacuum-sealed. They are not the least bit greasy, have a nice, light brown color and Mr. Sevilla even showed us how to open the chestnuts properly.

The vacuum-sealed packages can be put in the freezer and once you are ready to eat the chestnuts, you take them out of the freezer and pop them in the toaster oven for about 10-15 minutes. You then have freshly-roasted chestnuts in a jiffy!

Drop by for a visit and check out the kiosk's Traditional Lasang Pasko (Christmas Taste) offerings. These include Queso de Bola, Jamon de China, Castañas, Quesong Puti (White Cheese), Chocolate E (thick chocolate drink), and Ensaymada grilled with Guava Jam and Cream Cheese. We shall be going back with our kids so they can discover the true taste and treasures of a Pinoy Christmas!

When you visit, do try and look for Mr. Tony Sevilla. He is passionate about his coffee and his food offerings and will surely share with you interesting stories about his products and his business – from how he got started; the different types of coffee; why he makes use of the standard equipment (the usual coffee maker) when brewing his coffee (instead of those expensive, specialized Italian made equipment); to how Japanese coffee shops are run and how they brew their coffee.

To contact Mr. Sevilla for orders or inquiries, please call him at 633-2058 to 59.

Happy eating and drinking!


[By Angelica Viloria | Saturday, November 5, 2005]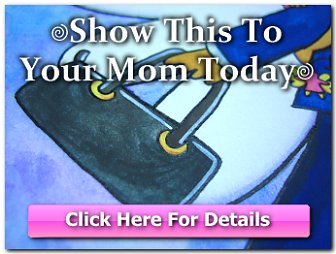 Copyright © 2001-2015 by Angelica Bautista Viloria. All Rights Reserved.


Previous entry: "Hand Painted Glass Products at ima ken pintura"
Next entry: "Gourmet Balut: Andoy's Best"