Philippine Christmas Bazaar Sked 2004
It is the month of SeptemBER. You know what that means. In the Philippines, it's the official start of the Christmas shopping season. Yes, yup. Fiscal crisis notwithstanding, I'm sure you are still busy making your lists and checking them more than twice.
UPDATE: For the latest skeds, please visit
Philippine Christmas Bazaars
http://www.viloria.com/philippine-christmas-bazaars/
UPDATE: Philippine Christmas Bazaar Skeds 2005
To help out with your shopping and to continue with the bazaar schedules that we have started a few years ago, here are the bazaars we have information on! Please revisit this site from time to time as we will be updating. Do take the time to read through the entire list as there may be new additions every now and then. We will be listing the bazaars from that with the farthest date (in terms of the last date, if there are several dates per bazaar or organizer) to that which is closest. You never know when we may add information in between so do check out every entry. So, we call on all bazaar organizers, please send us your bazaar information. Thanks!
Christmas Bazaar @ the Big Tent: December 10-12, The Big Tent Venue, Commonwealth Avenue, Quezon City. For inquiries, contact +632 931-43-47 or +63 917 526-1247. This bazaar is for the benefit of Gawad Kalinga's Payatas Village.
---

Bazaar 101 at the Parking Lot in front of Tektite Bldg. Ortigas Center.

Bazaar dates (10am to 8pm):
October 12-16; October 27-30
November 9-13; November 16-20
November 23-26; November 30;
December 1-4; December 7-11; December 14-23

Stall space is 2x2 meters, with 2 chairs. Rates vary from P4,500-14,000 per week, depending on the date and depending on the product (i.e. food or non-food)

For inquiries, contact Marilyn or Karen at
+632 531-43-43
+63 927 554-68-01
+63 917 792-92-76.

Additional Info:

vmasters-bazaar-2004.doc
MS Word doc file. "We are excited to announce that we are opening opportunities for anyone interested in setting up a booth for a bazaar along Ortigas Center. Thus, we are launching Bazaar 101, to be held from October to December, just in time for the Christmas Season! Marketing strategies will include distribution of flyers, streamers, newspaper advertisements and possibly television and radio announcements. Location will be at the parking lot in front of Tektite Building East Tower, Ortigas Center. (Please see attached map) A total of 106 booths will be available for rent." Details can be found in the Word doc file above.
---

Bazaar, Bazaar '04 at the Christ the King Church Greenmeadows, starting at 10am

November 20 and 21
December 4 and 5; December 18 and 19

For inquiries, please call PLA Events Planner at
+632 705-17-51 or 688-45-01.
---

The Christmas Box Bazaar at the Alabang Town Center's Motortown.

November 5-7; November 26-28
December 10-12

Call the Alabang Town Center for other details.
---

Maligayang Pasko! in Pasig
Valle Verde 5, 9AM to 9PM

December 4 and 5

Here's a direct quote from the e-mail they sent us: "Looking for the perfect time and place to promote your products and services? Join the biggest pre-christmas bazaar in Pasig...It's a mixture of a shopping and exhibit event, meet class "A" shoppers who are businessmen and high-ranking company officers, foreigners, politicians, etc. Maligayang Pasko! is not the usual bazaar. Its focus is to create both happy shoppers and businessmen/concessionaires. We offer maximum exposure, for just P3,000 you can be part of the event. For even more promotions, you may become an event partner for just P5,000, enabling your company to be advertised through newspapers, magazines, streamers, radio, internet, etc. Everything and everyone are welcome! Hurry, participants carrying products of the same category are limited."

For inquiries, call
+632 633-77-98 or
+63 917 839-8188 or
+63 927 922-0001.

Email was from Jay and Heidi of theeventscompany@yahoo.com
---

Paskong Pinoy 2004: "A X'mas Grand Fair at the Megatrade Hall"
5th Level, SM Megatrade Hall 3, Building B
Ortigas Complex, Edsa, Mandaluyong City.

December 1-5, 2004

Call TRADECON, INC. at
+632 435-01-85 or 435-02-65 or 435-05-56.

You may also e-mail them at inquiries@tradeconinc.com
---

International Christmas Bazaar 2004.
Philippine International Convention Center
Roxas Boulevard, Manila

November 30-December 5, 2004

For inquiries call Neotrade:
+632 812-90-99 or 812-74-50.

You may also email them at neotrade1@yahoo.com
---

Christmas Bazaar 2004 at the Grand Ballroom of the Hotel Intercontinental

October 24, 2004
December 5, 2004

Organizer is Venture 7. (*)
For inquiries, call
+632 810-33-07 or 843-95-07 or 372-30-83/84.
---

St. James The Great Christmas Bazaar 2004.
Cuenca Covered Court, Ayala Alabang Village

November 27-28
December 4-5, 2004

You may call St. James Parish at
+632 842-51-40 or 807-16-23
and look for Juliet.
---

Tiangge sa Valle Verde (10am to 8pm)
Valle Verde 1 Park Clubhouse

November 5 and 6
December 3

For inquiries, call:
+63 917-834-0161 or 917 538-6303 or +632 671-57-84 or 49.
---

Eagles of Hope Christmas Bazaar.
Ateneo de Manila Covered Court. (*)

November 27-28, 2004
---

Noel Discovery and Christmas Shopping Expo.
World Trade Center, Roxas Boulevard

November 26-28

For inquiries, call:
Cut Unlimited
+632 687-06-54 or 687-29-55 or 687-06-04 or
e-mail cut@pacific.net.ph
---

The Christmas Box Bazaar.
10th Floor, Multipurpose Hall
The Enterprise Center, Ayala Avenue, Makati City

September 15-17
October 13-15; October 27-29
November 10-12 and November 24-25, 2004

I suppose you can call the Enterprise Center and ask for contact information of the bazaar organizers.
---

Women's Board of St. Luke's Medical Center Bazaar at Greenhills (will still inquire where there, specifically)

November 13-14

This is a fund-raising activity for the benefit of indigent patients that they fund and give medical assistance to.
---
Wish a Christmas Bazaar.
Xavier School Courts
November 13-14
---

Metrobank Credit Cards Bazaar.
Le Pavilion, Metropolitan Park
Roxas Boulevard, Manila

November 11-14, 2004
---

Import Export Bazaar (Karl Edward)
Le Pavilion, Metropolitan Park
Roxas Boulevard, Pasay City

October 23-24; October 30-31

For inquiries, call
+632 372-84-53 or 374-24-40 or 374-37-26.
---

Gifts and Give-a-ways (Global Bazaars@Tektite 2004)
PSE Auditorium, PSE Center, Ortigas Center, Pasig City

October 28 and 29 from 9am to 6pm

Contact Global Planners, Inc. at
+632 683-09-00 or 638-45-85.
---

It's a Fair Trade Pre-Christmas Bazaar.
Corinthian Gardens Clubhouse

October 22 to 24, 2004 from 10am to 8pm

For information, contact:
+632 633-09-85 or 633-09-14.
---

Bazaar sa Forbes Park
Sanctuario de San Antonio Parish Church
Forbes Park, Makati

October 17, 2004 from 9am to 6pm
Admission is free.

For details, you can call
+632 825-34-82 or 825-08-04 or +63 920 557-8561.
---

Casa Y Jardin (sponsored by the Catholic Women's Club)
Intercon Hotel, Makati.

October 10 and October 17
---

Shop at the Fort Bazaar (Karl Edward)
NBC Tent, Bonifacio Global City, Taguig

October 16 and 17, from 9am to 7pm

For inquiries, call
+632 372-84-53 or 374-24-40 or 374-37-26.
---

United Nations Development Fund for Women (Unifem) Bazaar
Makati Sports Club, LP Leviste St. cor Gallardo St.
Salcedo Village, Makati City.

October 16, 2004 from 8am to 5pm
---

US Embassy Club: Shoppers' Day Bazaar
World Trade Center

October 2, 2004 from 9am to 3pm

Admission fee is P100 per head although children under 12 can come in for free.

For information, please call:
+632 834-50-96.
---

Friends for Cultural Concerns of the Philippines Pre-Christmas Bazaar.
World Trade Center, Roxas Boulevard

September 25-26, 2004 from 9am to 6pm.

For inquiries re available stalls, please call:
+632 817-39-05 or 817-1670 or +63 920 904-42-79.
---

Best Buy Bazaar: It's a Family Weekend!!!
Cuenca Court, Ayala Alabang Village, Muntinlupa City

September 25-26, 2004
---

Shop at the Fort Bazaar 2004: Karl Edward International, Inc.
NBC Tent in Bonifacio Global City
(from 9am to 7pm)

September 11 and 12, 2004
September 25 and 26, 2004

For information, contact:
+632 372-84-53 or 374-24-40
---

The Forum at PICC - All About Her...A Woman's Lifestyle Exhibition and Bazaar.

September 18-19, 2004

For details, please call the organizer, Philtrade. (*)
---

The Red Plaid Sale: 2-day Christmas Bazaar of Assumption Convent
Hotel Intercon

September 11 and 12
---

Shopping Carnival Year 2
World Trade Center, Roxas Boulevard, Manila

September 10-12 from 10am to 10pm

For inquiries, call
+632 532-34-75 or 722-14-64 or 532-00-97 or 722-14-60.
---
Speaking of bazaars, we went to one at Edsa Plaza last weekend and we bought the cutest scrub suits (yes, the one for nurses and doctors) for kids! Where would kids wear scrub suits? My question exactly. They can wear them at pre-school, for play, etc., etc. The designs are really cute - couldn't pass up on Dora for my daughter. You may also order for adults but servicing may take a week. The scrubsuits are made by Let Alfonso-Lomongo of Marla's Garbs for Tots.

For inquiries, you may contact her at
+632 747-71-50 or at +63 917-839-1359.

If interested to have a look-see at her products, she will be at the bazaars with an "*" above.

We also bought some Chocolate Eh from Lola P's Deli Products. For hot chocolate to drink during Christmas noche buena or to give away, please call Norma Cruz at +632 727-11-53 or +63 917-916-61-24. Happy drinking!

[By Angelica Viloria | Friday, September 3, 2004]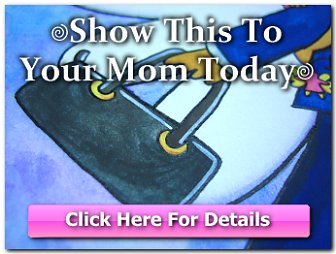 Copyright © 2001-2015 by Angelica Bautista Viloria. All Rights Reserved.


Previous entry: "Child Book Review 6: Mitchell is Moving by Marjorie Weinman Sharmat"
Next entry: "Kidspeak: Adi and Ali"