The Butterfly House - Live Butterfly Show
This is located at the Elliptical Orchids and Garden Center, Elliptical Road, Quezon City. For only P60 (about US$1.50) per head, you will be able to see and walk among butterflies. The place is not that big. It is very relaxing though to see our little friends, fluttering about, and even sometimes landing on you. A visit to this place can be very educational. You learn about the life cycle of a butterfly, Amazing Facts about insects, among other things. You also get to see other insects like grasshoppers, stick insects, and praying mantis.
As for the butterflies, you see different kinds, colors, and designs, making you marvel about how good a Creator God really is. A visit to this place makes you thankful for nature and all of God's wonderful gifts.
The Butterfly House is open from 9am-5pm, everyday. For inquiries, call 922-09-85.

Photos at The Aviary - Restaurant and Pet Museum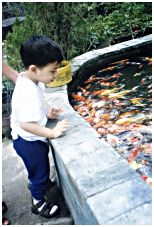 Know of other places that we kids can visit and enjoy? Send us e-mail via:

kidstuff AT viloria DOT com
(Last updated: December 23, 1999)