Travel With Nina
Nina Fuentes is a fun-to-read travel blogger.

[an error occurred while processing this directive]

She enjoys traveling to the Philippines, Australia, and Asia, and has even given her backpack a name!

At JustWandering.org (great domain name!), you'll find stories of people traveling in emerging travel hotspots, so that you can prepare yourself against potential difficulties, or push yourself to finally take that trip you've been dreaming about all these years.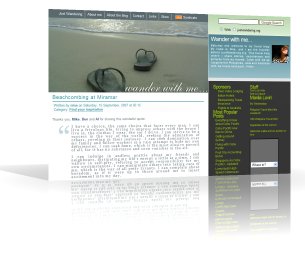 Aside from stories, you'll get timely travel news, such as: Cebu Pacific Flies To China.
I heard about this only today, but had I been following Nina's blog, I would've learned about it way back in June 2007.
Just in case you're still in the middle of planning your next trip, or if you want to see terrific travel photography (the photo in the header changes each time you visit a page), then stop wondering and just wander over to Nina's JustWandering.org travel blog. Happy trip!

[ First posted on 09/15/2007 by Manuel Viloria ]
Do you LIKE this page? Please let us know, and we will publish more of the content that YOU want. Salamat po!
Panuorin Mo Ito...
Visit SupremeWealthAlliance.net ~ Kumita sa Internet, Kahit Super-BUSY Ka
Get In Touch With Manuel Today
Manuel@Viloria.net
Previous Entry
Next Entry