Create Your Own Calendar
If you have uploaded your photos to Flickr, you can easily create your own Flickr Photo Calendar.
Thanks to Anton Diaz, I found out about FlagrantDisregard's Flickr Calendar.
Simply type in the address or URL of your Flickr photo (hopefully you have a large size uploaded), choose the month and year, and in about 10 seconds you'll have a downloadable jpg image of your calendar.
You can then choose to assemble those calendar images in a PDF file to give away to friends and clients. Alternatively, you can print those out and package them as an instant corporate giveaway. Feel free to edit your jpg calendar files so that others will know about your, your company, or your web site.
Here in the Philippines, people will gladly accept calendars in late November or early December. Benny, an LPG dealer, gifts his clients with calendar giveaways.
Here's a sample calendar I made with the help of Flickr and FD: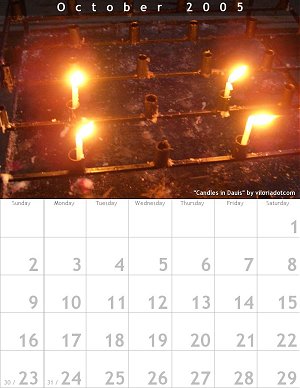 [ First posted on 09/07/2005 by Manuel Viloria ]



Do you LIKE this page? Please let us know, and we will publish more of the content that YOU want. Salamat po!




"Yes, I Want To Grow My Financial Life & Get The 11 TrulyRichClub Blessings!"
To Grab This Offer, Click Option Below:
Visit SupremeWealthAlliance.net ~ Kumita sa Internet, Kahit Super-BUSY Ka
Get In Touch With Manuel Today
Manuel@Viloria.net
Previous Entry
Next Entry