Selling Raindrops
What happens after a cool and cleansing downpour? Men take to the streets and sell peanuts.

[an error occurred while processing this directive]

In the Philippines, traffic is a way of life. Moreso after a heavy rainshower. You'll see these men plying their wares, and weaving their way through traffic-stuck cars.

They'll sell multi-colored cleaning cloths, umbrellas that you can wear on your head, various Nokia accessories such as a charger you can plug into your car's cigarette lighter...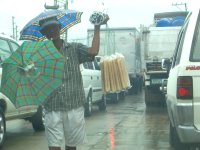 ...or even steaming mounds of peanuts.
It's the perfect after-the-rain moment in the Philippines.
May the rain and the stoplight give you a chance to pause, smell the resurrected air, and thoughtfully nibble on a few peanuts.


[ First posted on 09/02/2004 by Manuel Viloria ]
Do you LIKE this page? Please let us know, and we will publish more of the content that YOU want. Salamat po!
Panuorin Mo Ito...
Visit SupremeWealthAlliance.net ~ Kumita sa Internet, Kahit Super-BUSY Ka
Get In Touch With Manuel Today
Manuel@Viloria.net
Previous Entry
Next Entry