Happy Birthday, Adi!
Adi turns 7. My back still aches... from too much laughing.

[an error occurred while processing this directive]

First of all, thank you to all our friends and relatives who braved the rains. You all helped make Adi's birthday more fun and memorable!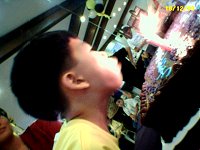 Thank you for the cute, attractive, mind-boggling, and father-son bonding (read: assembly required) gifts you sent, and for the wacky poses you made for the camera. Don't worry, we'll just email you those shots. Hehehe...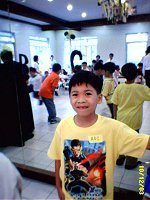 Thank you also to the innovative Master Magician Bing Lim-It, for dazzling the audience with his unique brand of magic, as well as his effortless humor and wit. You can catch his act at Plus-One (in front of Heritage, EDSA cor Roxas Blvd) at 11pm (Wed/Thu/Fri). Watch his show and find out why his rabbit is named Jennifer.
(To be continued...)

[ First posted on 10/13/2003 by Manuel Viloria ]
Do you LIKE this page? Please let us know, and we will publish more of the content that YOU want. Salamat po!
Panuorin Mo Ito...
Visit SupremeWealthAlliance.net ~ Kumita sa Internet, Kahit Super-BUSY Ka
Get In Touch With Manuel Today
Manuel@Viloria.net
Previous Entry
Next Entry