Plantation Bay: Summer in November
By
Angelica Viloria
of
Viloria.com
Summer vacation for us came later this year. Our second kid, Angela Gabrielle or Ali as we call her made her appearance in February 2002 so mom donning a swimsuit from March to May was out of the question. Then, classes of Kuya Adi went full blast so October 31-November 3 it was for our annual vacation.
It was back to Cebu with a 6-year old kuya and an 8-month old daughter. This time, we stayed at Plantation Bay Resort. It was a good break and we thoroughly enjoyed ourselves.
What We Like About Plantation Bay
Convenient Location:
The resort is located about 30-40 minutes from the Mactan International Airport. Transfers from the airport to the hotel and vice-versa are included in the package.
Friendly, Efficient Service: We were very happy with the level of service accorded to us during our entire stay. I initially inquired and subsequently booked on-line and I always had a response within 24 hours. Theirs is a website that actually works! (Which is really something to crow about judging from the kind of reply you get from other websites.) I had lots of questions and requests (e.g. a baby cot for my daughter, an extra bed for my son, assistance with sterilizing bottles) and all were attended to.
From the web to the reception/front desk to the waiters, everything went fine. Plantation Bay also has a "butler" system where you can ask for help for anything and everything you need. Like cleaning and sterilizing Ali's bottles every day. We also were able to source "chicharon" from the resort staff without having to go to the market. Staff would also help watch Ali so we could enjoy our meal or other activities.
Plantation Bay has a "no tipping" policy. We didn't realize how liberating this was until we actually experienced it. We no longer had to worry about how much to give or when to give as the reminder "not to tip" was written on their bills/receipts, the carts which we used to go around the resort, among others.
With a "no tipping" policy, all staff are expected to deliver quality service all the time. Although everyone we dealt with there were efficient and friendly, there were still some personnel who really stood out. Since tipping is not allowed, we used the feedback forms as our way of saying thank you to the people who really helped us out. So if ever you're in Plantation Bay next time, take time to fill up the form.
Activities For All: As soon as we arrived, we were given a map of the resort and a list of the activities, classified according to activities for kids and those for adults/teens.
There's something for every member of the family to do. Adi enjoyed the pony rides (P50 an hour); fish feeding/fishing (free), mini-golf, playing billiards and other games with Daddy at the Game Room, and learning origami at the Children's Center. It was Halloween so there were halloween parties with games like Mummy Wrap, Pin the Wart on the Witch, Scavenger Hunt, etc.
Parents can enjoy swimming or soaking in the different lagoons (cold saltwater, warm freshwater) with their kids. There's also wall climbing, target shooting, and mom's favorite - Mogambo Springs!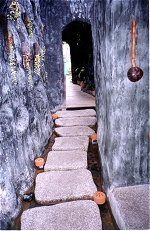 Mogambo Springs is a spa within Plantation Bay, complete with sauna, pools, and private rooms where one can get a massage and other treatments (e.g. foot scrub). Each service, as well as entry to the spa has a corresponding fee. A 30-minute chair massage, for example, costs P500. If one avails of any service though, entry fee to the spa is waived and one can use the various facilities available. Mogambo Springs is such a relaxing environment. It is quite secluded, once you're inside, and all throughout you hear relaxing (e.g. Enya-type, instrumental) music. You are offered cold water or tea after a treatment and you may lounge around while reading magazines that are made available to you.
Food: We liked the Spaghetti Marinara and the Chef's Salad. Adi enjoyed Kilimanjaro Café (Plantation Bay's Coffee Shop) as it had a children's menu which capitalized on popular cartoon characters. Adi enjoyed their Barney Burger, Flounder's Nightmare (Fish Fingers with fries), and Ninja Cowabunga Pizza. Breakfast buffet at Kilimanjaro is at P650++ per head.
There are two more food outlets at Plantation Bay - there's Fuji (where you have seafood and sushi/sashimi) and Palermo which is Italian.
What Can Be Improved
The room we got (Tahiti House) was quite dark we needed all the lights on even at daytime to be able to change Ali's diapers well, for example. Some of the food were a bit on the salty side too. Only the high chair in Kilimanjaro was younger-baby-friendly. Those in the other outlets were more for toddlers. The place is quite pricey too in terms of room rates and food although I think they offer promotional packages from time to time.
We'd Like to Come Back
If Adi had his way, he'd go back to Plantation Bay in a jiffy. Of all the resorts we have been to in Cebu (which include Shangri-la Mactan and Alegre), I'd say we enjoyed this trip the most so we'll be back. Next stop too, Maribago?
Other Links
---
Written: December 11, 2002
Copyright © 2002 by
Angelica Viloria
. All Rights Reserved.
Photos Copyright © 2002 by Angelica and
Manuel Viloria
. All Rights Reserved.
URL: http://www.viloria.com/plantation-bay-cebu-philippines.html
» Back to
Viloria.com