DAY 2, April 4, 2001, Wednesday
This was the day we primarily came to Boracay for. Our family had a cook, Virginia, who stayed with us for more than forty years (yes, you read that right). She retired in May last year and she stays with relatives in Batuan, Ibajay, Aklan. We told her we'd visit her some time and this was the main reason why we came back to Boracay and why we will keep coming back, every other year, at the least.

Batuan, Ibajay, Aklan is about 45 minutes to 1 hour from Caticlan. We had a heavy breakfast then at Pearl of the Pacific, after which we took a tricycle ride to Boat Station 1. The ride costs P5 per person. From Station 1 to Caticlan, the boat ride cost us P17.50 per person.

We had arranged for a van and a driver to wait for us at Caticlan that morning. At past 10, we boarded the van, ready to search for Virginia's house. We had to ask about 4 people along the way where Batuan was. Upon reaching the place, we asked were the Sallador residence was and we were told that it was about 4 houses down the road. Such is life in the province, everyone knows everyone. Even the person who lives down the road.

We finally found the house. We saw Virginia (whom all the kids in our family fondly call Ate Biba) and she was happily surprised, to say the least. She didn't know when to expect us, remember? We stayed for about two hours, chatting and finding out how she was. Adi also made new friends with the kids there. We also saw two of our former household help, Angela and Marialyn, who are happily settled now, with families of their own.

We had asked for directions near Angela's place and when they saw the van, they thought we were political candidates going on the campaign trail. The elections will be held on May 14, 2001, and politicians visit even the remotest areas in a bid to get more votes.

In the Philippines, even if you drop by unannounced, most likely, you will be offered something to eat and drink by your host. We then were treated to Coke and even lunch of rice, steamed shrimp, noodle soup with beef and veggies, and ripe mangoes for dessert. That's Filipino hospitality for you.

It was a good visit and one which made the whole trip worthwhile. Seeing Virginia again and knowing that we can visit regularly, all the more adds to Boracay's appeal as a vacation place.

When we got back to our resort, we found that our bathroom door (the one which didn't work as I described on Day 1) was gone. We told the hotel staff about this and their suggested remedy was to put mats on the floor to keep it from getting too wet. It was too inconvenient to transfer to another room (in the first place, we don't think there was a free one available as people were starting to pour in) so we learned to live and cope with the situation. It was a bit irritating the first two days but after while, you learn to relax and just write about it.

For dinner, we went to nearby Sea Wind. They also have a selection of grilled food to choose from. We ordered the Grilled Prawns (4 pieces) although one could also go for the pork chop, pork barbecue, chicken, squid (2 pieces), mussels, or oysters.

They also had the pasta bar where you can choose 1 of 3 types of pasta, choose from tomato or white sauce, and pick 3 toppings from the following: chicken, squid, shrimp, oyster, and mussels. All these for more than P200.

Both grilled food and the pasta bar selection came with soup (mushroom that night but which was quite watery and which hardly had any taste) and salad (choice of thousand island, tartar, or french dressing).

The choco banana shake at P65 per order was pretty good and offered better value than Pearl of the Pacific's fruit shakes.

Adi checking out the bed at Pearl of the Pacific. The bathroom is to the left, behind the sliding door that doesn't close. Be sure to shut off the aircon before taking a bath.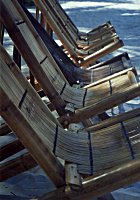 Rattan chairs lined up in front of Sea Wind.