Universal Studios Tour
Back to regular programming -- back to our Viloria Vacation series. While in Los Angeles, we visited Universal Studios which is a good one hour by car from Anaheim (where Disneyland is.)
It is advisable to get one of those tours which offer free shuttle service from your Anaheim hotel and back. Depending on the tour package that you are able to get, departure from your hotel can be before 9:15am.
A ticket to Universal Studios these days costs USD 61 per person and USD 51 for children aged 3-7. Some of the rides at Universal require the kid to be at least 48 inches to be able to ride. For this year also, Universal is offering "Buy-a-day-get-2007 free" which means that if you buy a ticket anytime this year, you can enter for free anytime for the whole of 2007. Sayang yung ticket namin ano?
You may also opt to buy a "Front of the line" ticket for USD 91 which guarantees that you will always be at the front of the line for any ride. The theme park assumes that customers are willing to pay a premium price for them to be able to save on time in lining up. We were there on a Thursday and the lines were not bad. The wait was anywhere from 5 to 25 minutes (most of the time, 5 to 10 minutes). So in our case, that day, a front of the line ticket wouldn't have made much sense.
I had been to Universal as a kid (with my parents and my brother) and I should say that it is very different now. The only thing remotely familiar is the Studio tram tour -- and even there, only 2 of the features were familiar to me. Of course, I was at Universal years ago. =)
Based on my estimates, to enjoy the whole place or to see all of the attractions, you probably need two full days. If you want to try most of the attractions, you should be there from opening time which is 10am on a Thursday till closing time (6pm.). I likewise appreciated the electronic displays which showed all of the "waiting times" for most of the rides and attractions. They proved quite helpful in planning our day.
What did we get to enjoy while there? We (I) liked the Shrek 4D although my 5-year old daughter got serious (or was she a bit scared?) a few times throughout the feature. The studio tram tour was very different now as I said -- it is narrated by Whoopi Goldberg and you get to see various sets, movie effects, and we did pass by the taping of Desperate Housewives on Wisteria Lane. We watched Animal Actors, a 20-minute show where they demonstrated to the audience how animals are trained for the movies. Adi and I tried Jurassic Park (which is like entering an entirely new world) and just a tip: if you wish to get wet on this ride, stay in the front row. If you want to get a bit wet only, stay on the 3rd row or in the middle part. Please secure your things too, like your eyeglasses as they may fly off. =)
Adi and his dad tried The Revenge of the Mummy ride and enjoyed its speed and features immensely. We also went to see the "fire effects" at Backdraft. Ali, of course, enjoyed seeing various characters and having their photos taken with them. She saw Curious George and Woodpecker.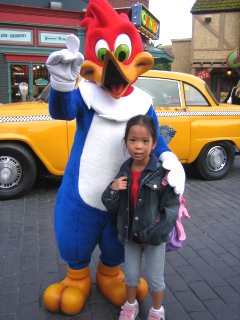 At Universal Studios, by the way, there is a "Child Switch" feature for popular rides which small kids cannot enjoy. This means that parents do not need to line up twice to be able to enjoy a ride. Both parents can just line up once and take turns trying the ride. As one parent tries the ride, one parent stays behind with the child and when the other parent comes back, the parent who stayed behind with the child automatically gets his or her turn.
As with most theme parks, food inside is quite limited and expensive. For our meal, for example of hotdogs, chips, and drinks, it already cost us USD 29 for the four of us! Oh well, that's how it is...
If you wish to inquire re the Universal Studios Tour with free shuttle operated by Southern California Gray Line, you may call them at 714-978-8855 or call them toll free at (800) 828-6699. You can also visit their website at www.graylineanaheim.com
For other tours in Los Angeles, you may also call 1.310.458.0257 or 1.800.870.1886 or visit www.lasightseeing.net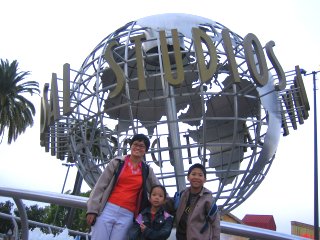 [By Angelica Viloria | Sunday, May 13, 2007]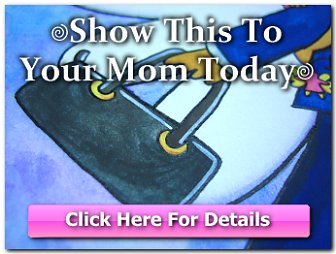 Copyright © 2001-2015 by Angelica Bautista Viloria. All Rights Reserved.


Previous entry: "Mother's Day"
Next entry: "Elections in the Philippines"