That Doesn't Tell Me Anything
Yesterday, my officemates and I had Valentine's Day lunch at Sofah (located in Malate), a rather quaint-looking restaurant which serves good and reasonably-priced Chinese food. I enjoyed the food a lot but when it came to service, a lot could still be improved.
I like writing. You'll have to admit though that the situation and the conversation I will describe in awhile is much too unique and original to have been invented.
We were about to order dessert. Everyone was asking what "panna cotta" was. As a waiter or server approached to take our order, one of my officemates asked:
"Ano yung panna cotta?" (What is panna cotta?)
The waiter replies: "Yun yung bilog." (It's the round one.)
Officemate presses further: "Ano nga yon? Bilog nga pero anong flavor?" (So it's round but what is it? What's the flavor?)
Waiter continues to respond: "Isa lang ho ang flavor non." (It only has one flavor.)
Officemate refuses to give up: "Isang flavor nga pero ano?" (Yes, it has one flavor but what is it?)
Waiter now feels the pressure as he is found not to have enough product knowledge: "Hindi ko pa kasi yun natitikman. Buti pa, tanungin ko na lang yung gumagawa sa baba." (I haven't tasted panna cotta yet. I better ask the baker downstairs).
In the meantime, the restaurant supervisor happens to come by and upon being asked the six-million dollar question, tells us that panna cotta is something like: "Italian leche flan."
A few minutes after the supervisor leaves, the waiter we were talking to earlier comes up, puts a piece of paper on the table (near where my inquisitive officemate was seated) and says: "Panna cotta."
We look at the piece of paper and there, written, (by the baker, I suppose) were the ingredients which made up panna cotta - no measurements, of course.
We had a pretty good laugh but I really think the waiters should be trained more on how to handle curious customers. Anyway, in the end, we didn't get to taste the panna cotta. It turned out, they were all out of it...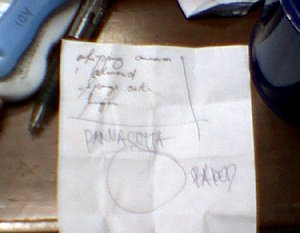 [By Angelica Viloria | Friday, February 15, 2002]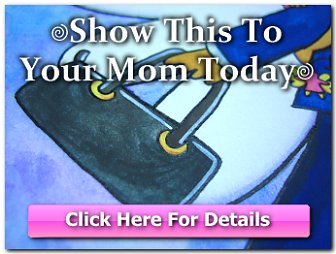 Copyright © 2001-2015 by Angelica Bautista Viloria. All Rights Reserved.


Previous entry: "Birth and Tying Sweaters"
Next entry: "Back in the Land of the Living"