The End of Summer
Summer's over. The rains have come and windshield wipers are being replaced. The chokingly warm evening air is wet, and the roof shakes with the crashing of mangoes hurled by the wind. The car is dirty, and the peso bills are kites flown by wash-your-car boys in streets or in the malls.

[an error occurred while processing this directive]

Rainy weather. The kind that depresses my friend Viv Singson. Why not preview the first four chapters of Summer's End -- a fantasy story set in the Cordilleras. It's for teens, although the prologue may be too graphic for 14 year-olds.

The photo below shows what currently paints my car. That's what I get for parking under this plant. The leaves and flowers whip downwards in the gusts of typhoon Dindo, and I hope that summer's end also brings relief to those who fear a possible water crisis in the Philippines.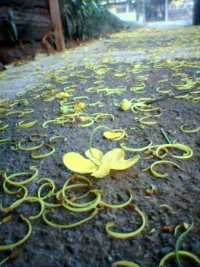 [ First posted on 05/19/2004 by Manuel Viloria ]
Do you LIKE this page? Please let us know, and we will publish more of the content that YOU want. Salamat po!
Panuorin Mo Ito...
Visit SupremeWealthAlliance.net ~ Kumita sa Internet, Kahit Super-BUSY Ka
Get In Touch With Manuel Today
Manuel@Viloria.net
Previous Entry
Next Entry