Rock Water Fountain Relaxes
Have you ever seen a rock water fountain? It's basically an arrangement of stones, a water pump and spout, and water. Simply staring at the hypnotic ripples of water cascading down the sides of the rocks helps you de-stress. Before you know it, you'll be asleep in a sea of rhythmic, dribbling, burbling whispered song.

[an error occurred while processing this directive]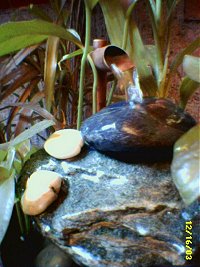 The photo above is the rock water fountain in the house. Jun spruced it up by adding a few plants in the bowl that holds the water and the stones.
Usually, rock water fountains do not contain plants. But that doesn't mean you can't innovate, right?
Get your own fountain of relaxation today, and help ease away the tensions that wrinkle our daily lives. Yes, it's good to drink water daily. You should also try listening to it. And dreaming in it...
(For more information on where to buy rock water fountains online, click on the photo below)

Fountain / Cabochon Rectangle - Lichen
Adjustable-flow waterspout is in the center of fountain (hidden by stones). You can change the arrangement of rocks (even slightly), and change the flow of running water over the rocks and its sound.

[ First posted on 12/16/2003 by Manuel Viloria ]
Do you LIKE this page? Please let us know, and we will publish more of the content that YOU want. Salamat po!
Panuorin Mo Ito...
Visit SupremeWealthAlliance.net ~ Kumita sa Internet, Kahit Super-BUSY Ka
Get In Touch With Manuel Today
Manuel@Viloria.net
Previous Entry
Next Entry