Tuesday, June 11, 2002
I'm now trying Snapgallery, "a fast, easy way to create a quick web gallery of pictures." It's a visual basic script file that automatically creates html files for your photos. Once the files are made, you simply upload them (along with the jpg images) to your webserver. Maybe Mona and Dindin will find this useful. :-) [more]
Posted by Manuel [Tech > Photos > Snapgallery]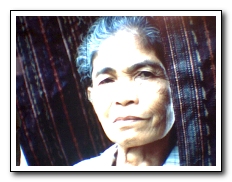 Salinta Monon is probably the last Bagobo weaver of the Philippines. You'll find some of her woven creations at the Museum of the Filipino people, which we visited last Saturday.
I thought the kids we brought along would be bored, but they were pretty much excited right from the start. The first gallery room we entered showed some finds from the Spanish galleon San Diego, a wreck found 52 meters beneath the waves off the port of Batangas in 1991.
The kids marveled at the old spoons, forks, plates, cannons and cannonballs. I doubt if the fact that those items came from a 400 year-old Manila galleon meant anything, but hey, at least it was fun! ;-)
To be continued...
Posted by Manuel [Salinta Monon, The Last Bagobo Weaver]