Diabetwatch and Diabetes
Are you suffering from diabetes? Please ask your professional healthcare provider about Diabetwatch.

[an error occurred while processing this directive]

Diabetwatch: Php 750 (50 Capsules/box)

Here are some of the ingredients:


AMPALAYA (BITTER MELON) EXTRACT. Bitter Melon is reported to help in the treatment of diabetes and psoriasis. It has also been reported that Bitter Melon may help in the treatment of HIV.



Aids in sugar regulation by suppressing the neural response to sweet taste stimuli

Useful for those with diabetes mellitus

Lectins from bitter gourd may possess significant antilipolytic and lipogenic properties

Useful as an emtic, purgative, and as an anthelmentic, in jaundice, and piles

Indigestion

Diabetes


BANABA EXTRACT (Lagerstroemia Speciosa L.) Banaba has been used in Filipino herbal medicine for the treatment of diabetes. Aside from the medicinal value of Banaba, as a herbal medicine, it is also good for the health, and contains high concentrations of dietary fiber and minerals such as zinc and magnesium.
Benefits of Banaba:



Diabetes

Fights obesity

Helps regulate blood pressure

Good for the kidneys

Aids the digestive system

Helps ease urination

TURMERIC (Curcuma Longa)
Lowers LDL cholesterol - Studies have shown that turmeric lowers LDL cholesterol levels. LDLs are responsible for the build up of plaque in the arteries that could lead to heart disease.
Treats High Blood Pressure - Turmeric has been shown to improve blood flow as well as strengthen blood vessels.
Guards Against Cancer - Studies point to turmeric's ability to neutralize free radicals, chemicals that could damage cells. Turmeric can ward off cancer and tumorous growths.
Promotes General Health - Turmeric extract contains powerful antioxidants which can help boost the body's immune system and protect against illness and disease.
Other Turmeric Benefits - Some of the other turmeric benefits include protecting the liver, aiding in digestion and helping with irritable bowel syndrome.
GYMNEMA SYLVESTRE
Several studies corroborate findings that Gymnema leaf can increase insulin secretion. In many diabetes cases, insulin secretion is lower than normal which explains the difficulty of the body to control and regulate the blood sugar levels.
This supplement also reduces body weight and weight gain.
This leaf is so effective in controlling diabetes that patients on medication have been able to discontinue the use of conventional drugs. Please take note that the packaging clearly states that there are no approved therapeutic claims.
This dietary supplement also has the ability to eliminate the desire and craving for sweets, sugar and candies. By doing this , it reduces weight and help people get a healthier diet.
It lowers cholesterol and help the body develop a good balance between body fat and lean muscle mass.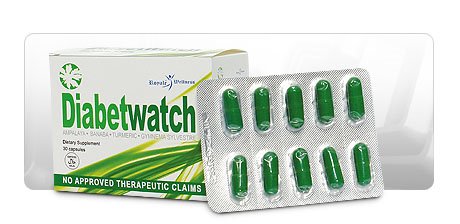 Diabetwatch retails at only P750 per box of 50 capsules. Help manage your diabetes now. For orders, please email us today.
UPDATE [01/21/2010]: Diabetics, rejoice! I heard from Engr. Feds that the price of a box of Diabetwatch is now only P500.

[ First posted on 01/09/2010 by Manuel Viloria ]
Do you LIKE this page? Please let us know, and we will publish more of the content that YOU want. Salamat po!
Panuorin Mo Ito...
Visit SupremeWealthAlliance.net ~ Kumita sa Internet, Kahit Super-BUSY Ka
Get In Touch With Manuel Today
Manuel@Viloria.net
Previous Entry
Next Entry