Globe and the Google Android Phone
Globe brings the first Android OS-powered phone (the new HTC Magic) to Filipino customers. The HTC Magic is a feature-packed entertainment and communication device that makes use of the Android software platform for mobile devices initially developed by Google.


[an error occurred while processing this directive]

As a pioneer in digital communications, Globe aims to deliver the most advanced services and the latest technology and devices to consumers so they get the best mobile experience -- first with iPhone and now, android phone. According to Wikipedia, "Android is a software platform for mobile devices, running on the Linux operating system. It was initially developed by Google and later the Open Handset Alliance."

This new HSDPA (3.5G) HTC Magic phone allows instant access to the Google search and seamless email synchronization. The phone also allows you to easily read PDF files, Microsoft Word doc files, and MS Excel spreadsheets. It also supports Microsoft Exchange ActiveSync with push email as well as calendar and contact synchronization.

You know what that sounds like to me? Yes, mobile work. No matter where you go, you can still open your docs and xls files, which means your work can easily follow you where you go. Perfect for workaholics! :-)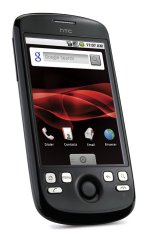 The HTC Magic has a chic look with a 3.2-inch TFT-LCD flat touch-sensitive screen with HVGA resolution for a wide display and a 3.2 megapixel color camera with auto focus to capture video and still pictures. It also has an onscreen versatile keyboard with predictive text, an accelerometer for auto-rotate, handwriting recognition, and a track ball. It comes with a Smart Dialer that allows users to call in whatever way they want, either dialing the phone number or the first few letters of the name.
Globe makes the new HTC Magic available in the Philippines, and you can get it free at GPlan or GFlex 7000 at the Megamall Globe Telecom Business Center (4/F Cyberzone, Building B). You can also log on to www.globe.com.ph for more details.
Anyway, it would be interesting to see what the future has in store for the Android operating system and mobile internet broadband in the Philippines.

[ First posted on 06/17/2009 by Manuel Viloria ]
Do you LIKE this page? Please let us know, and we will publish more of the content that YOU want. Salamat po!
Panuorin Mo Ito...
Visit SupremeWealthAlliance.net ~ Kumita sa Internet, Kahit Super-BUSY Ka
Get In Touch With Manuel Today
Manuel@Viloria.net
Previous Entry
Next Entry