TWTTR: Cell Phone Marries the Web
You can now send your SMS text to the web with the help of TWTTR.

[an error occurred while processing this directive]

Found out about TWTTR from Robin Good, so I tried to sign up using a Globe sim card.

Tip: If you're a cell phone subscriber here in the Philippines, use this format for your number:

+639XXXXXXXXX

Signing-up is quick and easy. I just don't know how much the text costs. It's probably P15 (about $0.30) since the destination number is in the USA.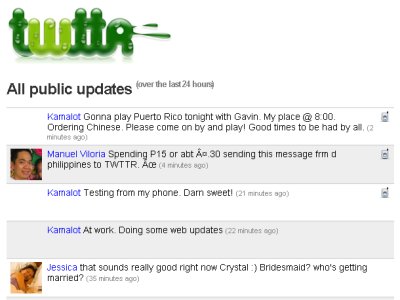 It took about 3 minutes before my sms text message was shown on the Twttr Public Timeline, and it will probably stay displayed there for 24 hours.
Here's another tip: Don't delete the incoming message from Twttr, because you can easily reply to it in the future and quickly add your at-the-moment update to the timeline.
If you have friends who are glued to the computer, you can send a single sms text to Twttr and your online friends will see the sms text message. You can also use the computer to compose and send a message, particularly if you are saving on cell phone credits. :-)
Or you can get 15 or more of your friends to join Twttr, and have them switch on "notification" (which seems to be the default setting). When you send a message to Twttr via text or via your PC, your friends will get the notification via SMS.
What we don't know yet, though, is how long it will take the message to reach them, and if Globe, Sun, or Smart will charge them for the incoming message.
Anyway, you can already accomplish that with Broadcast text, although Twttr can help if you have cell phone friends based outside the Philippines. The true power of Twttr lies in the ability to update text on a web page by simply using your phone.
Hmmm... 24-hour mobile news blogging via cell phone, anyone? Here's my Twttr Moblog.
My Twttr Wishlist: Ability to upload images/video via MMS text.

[ First posted on 07/19/2006 by Manuel Viloria ]
Do you LIKE this page? Please let us know, and we will publish more of the content that YOU want. Salamat po!
Panuorin Mo Ito...
Visit SupremeWealthAlliance.net ~ Kumita sa Internet, Kahit Super-BUSY Ka
Get In Touch With Manuel Today
Manuel@Viloria.net
Previous Entry
Next Entry