When Chino Met Gela
Last February 7, Chino and Gela got married. Fortunately, I brought a Zire71 along and here are some of the photos.

[an error occurred while processing this directive]

For the text portion, please read Angel's
Love Is In The Air.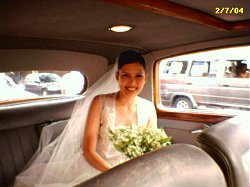 Here's Gela patiently waiting inside the Bentley. It's around 3:00 in the afternoon.


Chino waits not-so-patiently inside...


...the Ellinwood-Malate Church.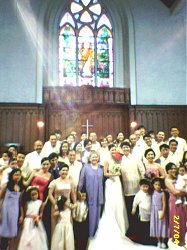 My big fat Greek wedding (?)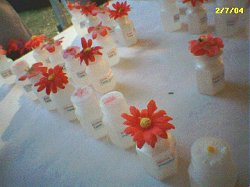 A bubbly way to greet the newly-married couple when they enter the reception area.


Flower, flowers, flowers, and candles...


Manila Bay without the sunset is still quite romantic.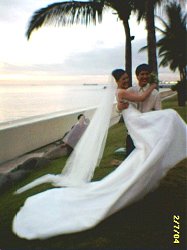 Carry her, Chino...

The above photos were taken using the Palm Zire 71 -- please click here for more info...
The Palm Zire 71 built-in camera has a resolution of only 0.3 megapixels. Imagine how even more beautiful the photos you take will be if you have a resolution of 1.2 megapixels. Check out the PalmOne Zire 72 Handheld today!
[ First posted on 02/09/2004 by Manuel Viloria ]
Do you LIKE this page? Please let us know, and we will publish more of the content that YOU want. Salamat po!
Panuorin Mo Ito...
Visit SupremeWealthAlliance.net ~ Kumita sa Internet, Kahit Super-BUSY Ka
Get In Touch With Manuel Today
Manuel@Viloria.net
Previous Entry
Next Entry