Two-Faced Ali
Ali turns two months today. How apt, considering how "two-faced" she is.

There's the serious side of Ali, which she displays probably 90% of the time.


[an error occurred while processing this directive]

Whether you make a baby burpling sound, or roll your eyes, or bang a spoon on your plate, clap your hands, or go through the entire "How To Make Baby Smile" list you culled from interviews with various relatives, officemates and neighbors, all you get is this:
But then, if you manage to stay alert in your sleep-deprived state, you will occasionally catch that fleeting gum-ful smile. You slip into cardiac arrest, not caring when your next breath will come. Your stare into her cute brown eyes with your left eye, while marveling at her smile with your right. In your excitement, you forget what it is exactly you did to elicit this: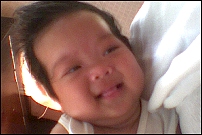 Actually, I get that reaction practically every time I whisper this special phrase into Ali's ear. And only when I utter those simple, special words. So what's the magical incantation? I'm not telling. Hehehe. As some friends would say: "Secret... walang clue."

[ First posted on 04/18/2002 by Manuel Viloria ]
Do you LIKE this page? Please let us know, and we will publish more of the content that YOU want. Salamat po!
Panuorin Mo Ito...
Visit SupremeWealthAlliance.net ~ Kumita sa Internet, Kahit Super-BUSY Ka
Get In Touch With Manuel Today
Manuel@Viloria.net
Previous Entry
Next Entry